Voted Best Mag/Vlog/Blog at the Birmingham Music Awards 2019
Birmingham Music Awards Best Mag/Vlog/Blog
Brass Against
Monday 23rd March | The Mill, Digbeth

In this politically challenging era, it's time to stand up against the machine.
Brass Against is a NYC based brass band Founded by Brad Hammonds playing protest songs and other anthems from Rage Against the Machine, Living Colour, Audioslave, Tool, Kendrick Lamar, and more.
Brass Against is a collective of artists, led and curated by Brad Hammonds, who share in the goal of creating brass protest music that calls fans to action. We want the music we perform to sound inspiring and resonate with people's emotions, encouraging them to act. We combine rock and edgy hip-hop to play music that's powerful and empowering. Brass Against is exceptional music with a political edge.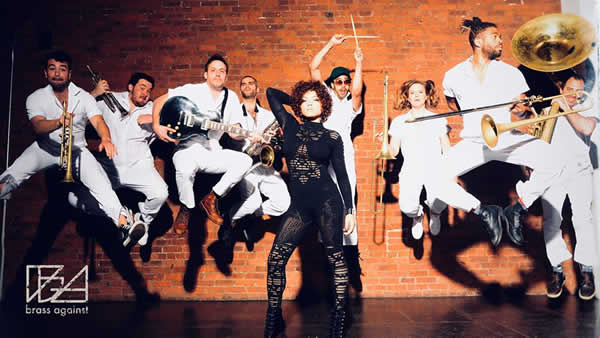 Published: 28/02/2020
Supporters of RGG:
Ryan's Gig Guide contains FREE gig listings, previews, music reviews and informative articles aimed at the local music community.
Distributed monthly FREE to music venues, pubs, bars & cafes throughout the West Midlands.
Home | media@rggmag.com | Privacy Policy
In association with